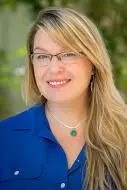 Who am I as a therapist?
I became a therapist, like many therapists, as a result of my own personal healing journey. I find that it is my direct personal experiences with loss, grief, betrayal, emotional and religious abuse, generational dysfunction, trauma, and loss of self that has been my best and most influential teacher. I believe that my personal experiences and my own therapeutic work are my greatest assets as a therapist. My wounds give me an ability to feel with my clients and experience true empathy, while also having a deep compassion for, and understanding of the human condition. My wounds directly and profoundly inform my work.
I do not assume to know what my clients think, feel or what troubles their soul, but I do know what it is like to be confused, lonely, lost and hopeless. Since I have been in the depths of darkness, I am not afraid to sit with another who is in theirs, and offer support as they make their way towards the life he or she is seeking. I am not afraid to be vulnerable, transparent or authentic.

In fact, I believe that healing only occurs when trust, honesty, mutual respect, vulnerability and authenticity are present. I have taken a long healing journey and have found my way back to a happy, vibrant, fulfilling and meaningful life. And it is always my great honor to accompany another on theirs. I believe the therapist who has made this journey can lend their sword of wisdom, courage and compassion to the client who is battling their own inner demons, and can more adeptly help them find their way to wholeness. Helping others to reconnect to their true self is my privilege, and my great love in life. I feel honored to be a part of the profound healing process, and in perpetual awe as I observe my courageous clients reconnect with their most happy, strong and empowered selves.

Who was I before I was a therapist?

I took a few detours on my career path before arriving at my final destination. My first career, which lasted for over 17 years was as an artist and a clothing designer. As a designer, I worked for several design firms, and later founded and owned an Eastern inspired yoga clothing company called Satori Sport. I loved the creativity of design work but it began to lack meaning for me. In 2008, I was thrilled to sell my business and begin my search for something more meaningful. A year later, I found myself working in the healthfood industry educating consumers and employees on health, wellness and supplements!! As you can see, I have a passion for healing on every level-physically, emotionally and mentally.

In 2010, I began training at Pacifica Graduate Institute in California, where I obtained my Masters in Counseling Psychology, with a specialization in Depth Psychology. Pacifica was a powerful, life-changing experience filled with healing, ritual, myth, metaphor and extensive self-examination. It was here, in the magical land of the deep unconscious, that I fell in love with the psyche, the human condition and healed many of my deepest and most resilient wounds. However, therapy has been a way of life for me, my entire adult life, healing many of my childhood scars and teaching me a new healthier way to be in the world. My therapist has been my most trusted companion through thick and thin, loss and love, betrayal and victory.

Where did I obtain my education?

Pacifica Graduate Institute , Carpentaria, California
MA Counseling Psychology with emphasis on Depth Psychology
Graduating GPA: 4.0
2010- 2013
Otis College of Art and Design , Los Angeles, California

BFA Apparel Design
1987-1991
What kind of license do I have?
• Licensed Professional Counselor, State of Texas, License #71881.

What kind of trainings and workshops have I taken?

• DEEP Skills and Theory Training (Dynamic Enriched Experiential Psychotherapy) with Candyce Ossefort-Russell, LPC-S, September 2013-June 2014 Completed Modules 1-4, DEEP Center for Psychotherapy and Training. 56 CEUs
• DEEP Center for Psychotherapy and Training bi-monthly peer and supervision training with Candyce Ossefort-Russell, LPC-S, October 2014- Current, DEEP, Center for Psychotherapy and Training.
• Somatic Experiencing Beginning I presented by Maggie Kline, MS, MFT, SEP, January 8-11, 2016, Austin Center.
• "Bringing Right-Brained Grieving to a Left-Brained World: Using Attachment and Interpersonal Neurobiology to Humanize Our Approach to Grief" presented by Candyce Ossefort Russell, LPC-S, June 5, 2015, Austin in Connection. 3 CEUs.
• "Online Introduction to SE" presented by Brad Kammer, MFT, LPCC, SEP, May 29, 2015, Somatic Experiencing Trauma Institute.
• "CPS for Mental Health Workers" presented by Cliff Hamrick, LPC-S, May 30, 2015, Capital Area Counseling. 3 CEUs.
• "Spirituality, Archetypes, and Trauma" presented by Peter Levine, PhD, April 18, 2015, Somatics Experiencing and Jung Society of Austin. 2 CEUs
• "Transgender Training" presented by Heather Davies, LCSW, April 8, 2015 and April 23, 2015, Capital Area Counseling. 2 CEUs
• "Words That Heal: Editing Our Stories to Transform Our Lives" presented by Shannon Huggins, LCSW, BCD, June 13, 2014, Austin in Connection.
• "Brainstorm: The Inside Out Guide to the Emerging Adolescent Brain presented by Dan Siegel, MD, April 11, 2014, Austin In Connection.
• "Repair Generates Resilience: How to Own Our Lapses to Heal Shame and Reveal Compassion" presented by Candyce Ossefort Russell, LPC-S, PLLC. May 9, 2014, Austin In Connection. 1.5 CEUs
• "On the Red End: The Landscape of Neuropsychology and the Wounded Seat of the Soul" presented by Tiffany Baugher, PhD, LPsyc, MFT, April 18, 2014, Jung Society of Austin. 1.5 CEUs
• "Riting Myth Retreat: Meditations on Personal Myth" presented by Dennis Slattery, PhD, March 2, 2013, Jung Society of Austin. 4 CEUs
• "Towards a Postmodern Poetics of Trauma: Confessions of a VA Psychologist in a Time of War" presented by Mark Adams, PhD, March 7, 2012, Austin Society for Psychoanalytic Psychology. 1.5 CEUs
• "Ethical Standards and Best Practices for the Use of Art Making in Brain-based Treatment" presented by Megan Van Meter, LPC-AT, ATR-BC, August 5. 2011, Capital Area Counseling. 2 CEUs
• "Transforming our Fears and Living in the Moment Through Mindfulness" presented by Micki Fine, Med, LPC, September 24, 2011, C.G. Jung Educational Center of Houston. 4.5 CEUs
What professional associations am I involved with?
I am a member of Austin In Connection.
www.austininconnection.com

**Formally obtained degree from Otis Parsons in 2010.